Scentwork classes
Scentwork for our pets dogs is about teaching them to recognise and sniff out a particular scent. Scents like clove, gun oil & truffle oil are generally used. Our dogs have an amazing sense of smell and a natural desire to hunt and find things, and our training methods tap into these natural behaviours, making scent training the type of training your dog will love.
The benefits of scentwork are endless. Your dog will have great fun, build confidence and focus as well as burn a lot of mental energy. A scentwork scentwork session will leave your dog feeling calm, relaxed and mentally fulfilled.
Scentwork training will also help to build a better, stronger bond between you and your dog as you will be working as a team.
Our scentwork sessions are open to any breed and age of dog. The activity is low impact so it is suitable for elderly dogs or ones with injuries or illness.
Whether you want to compete at trials or just use scentwork for your dog's weekly enrichment, our beginner scentwork classes will give you the very best foundations.
No previous experience is necessary!
You can also work towards taking your Scentwork UK level 1 trial and beyond...
Some of the things we will cover are:
Introducing your dog to a specific scent
Boxes and luggage searches
Exterior car searches
Exterior items searches
Tables and chairs
Indications, passive & active

Some equipment you will need:
Correctly fitted harness
Long lead or line
High value treats or toy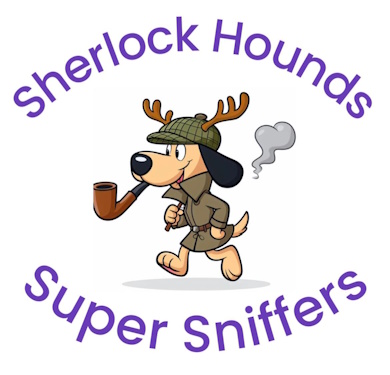 Once you have completed our Introduction To Scentwork course you can join our Sherlock Hounds Super Sniffers Group. Classes are on a rolling/continuous basis and are on Thursday evening at West Wycombe Village Hall.
If your dog is already trained to a specific odour you can also join our regular groups.
Please contact us for more information about these classes.
Course cost: £ 95.00
6 week course starting on Sun 12 November 2023, 10:30 and finishing on Sun 17 December 2023
One to one scentwork sessions can be arranged at times and dates to suit you and will also be suitable for reactive dogs that cannot work in a group.

Venue & Booking
The classes are held at:
The Guide and Scout Centre
Coates Lane
Downley
High Wycombe
HP13 5UX

Chessmount Nursery
41B Chessmount Rise
Waterside
Chesham
HP5 1RB

West Wycombe Village Hall
High Street
West Wycombe
High Wycombe
HP14 3AB

Please make sure you go to the correct venue. Further details can be found on the location page.
Contact Lisa at info@huntshappyhounds.co.uk for a booking form and payment information.